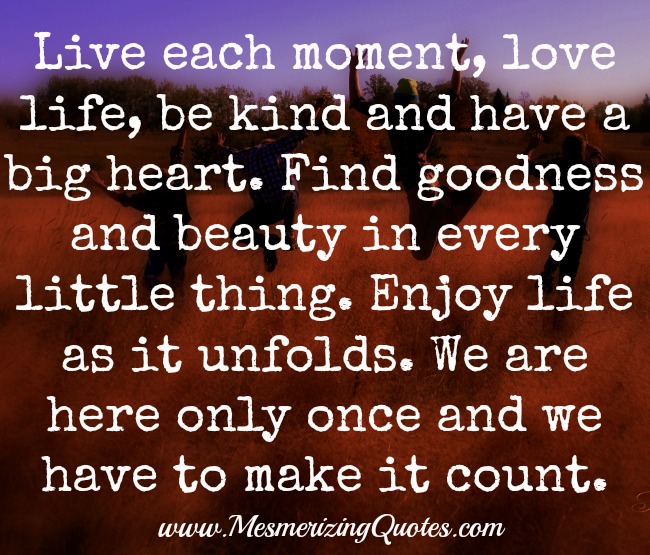 Life is uncertain. Eat dessert first. 
Live in the moment because it's truly the only thing promised and you never know when the next moment won't come. 
Appreciate life in it's own very simple way. Don't go too much about your plans in the future. Planning is good, but what is important is appreciation. ~ Fely Pajarito 
The more you enjoy life, the happier you are and the happier you can make others.
Do things you want now when you are able to before regret when you are unable to do so.
Live your life, the best you can and as happy as you possibly can. 
It takes two to tango, enjoy life at your fullest & spend to all that worth keeping, spread love, passion & respect. ~ Bella Blanco 
We need to be more aware of what a gift each moment we have with our loved ones & friends. ~ Soraya Lambert 
Love is more than just a word, it's a gift. Hold your loved ones & friends close they need you just as much as you need them.
Life is too short, make the most of every opportunity that comes in our way, make time to enjoy life rather than make life become too complicated and boring. ~ Kunthea Cheam 
Life is not a race. Take it slower. Hear the music before the song is over. ~ Frederick Rosimo 
Take time to stop & smell the roses, it opens your senses, dance to the music of Life which is good & soothes your soul. ~ Natalie Ali 
You live once so don't hesitate to make it to the fullest as you choose. Be sincere to yourself and at the end of the day, you'll surely feel contented to yourself and grateful to your creator too. ~ Norrani Osman 
Lets do our bucket list starting today. I would have called someone that I am meaning to call but so afraid that someone will be killing me, I would have love to have lunch with my daughter in law but I am so afraid that I will be turned down. There are several people that I want to repair the damaged relationship but fear stopping and all other action needed stuff, most of them I have done already. So I am going to focus on people that I placed in my back burner. ~ Norma Powell 
Live in the moment. Every day I see a parent at the park with their children. The parent is pushing the child on the swing, talking on a cell phone. Not living in the moment. In a restaurant, table full of friends, texting on their phones. Not living in the moment. Be present and available in spirit when you are with someone, even if it is just yourself. Put your phone away. When you pick your children up from school ask them how their day was. When you're sitting at a table in a restaurant ask your friend how they've been. When you're driving by yourself be aware of your surroundings and see the beauty. That is live in the moment. ~ Cindy Rieger
I have been living in the moment, it's the only way to live. We are here only once and we have to make it count. Moments become our memories and that's all we have in the end. ~ Penny Lane 
I have actually taken the time to watch a sunset, smell the flowers, spend time with my kids and grand kids, and go for a walk with my husband holding my hand and it has given me a whole new perspective on life. ~ Karen Hamel 
Got Something to Say! Comment below :-
comments