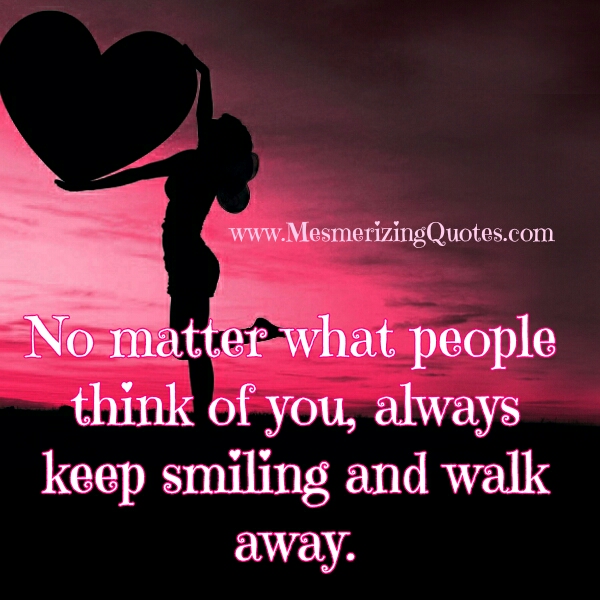 Silence & smile are two powerful tools.
Smile is the way to solve many problems
& silence is the way to avoid many problems.
When you're facing a terrible keep the most beautiful smile and then everything will pass. 
No matter what we do, we can never satisfy everyone's expectation.
If you spent your life concentrating on what everyone else thought of you, you would forget who you really were? ~ Jodi Picoult
People always seem to think that those people are the judge, maybe they look look in the mirror and judge themselves. ~ Sherry Polkosnik 
Keep your head held high and know in your heart that you are a good person and if people can't see that in you, you don't need them in your life. Only you have control over your reaction to other people's actions.
What people think of me is none of my business; nor do I care. It's what I think of me that counts and I happen to love me and think I am a great person. Walking away smiling, that's me! ~ Sheila Thacker
Accept whatever happens to you. Even if you suffer humiliation, be patient. Gold is tested by fire and human character is tested in the furnace of humiliation. Trust the Lord and he will help you. Walk straight in his ways and put your hope in him. Keep Calm! ~ Venus de Leon
Got Something to Say! Comment below :-
comments