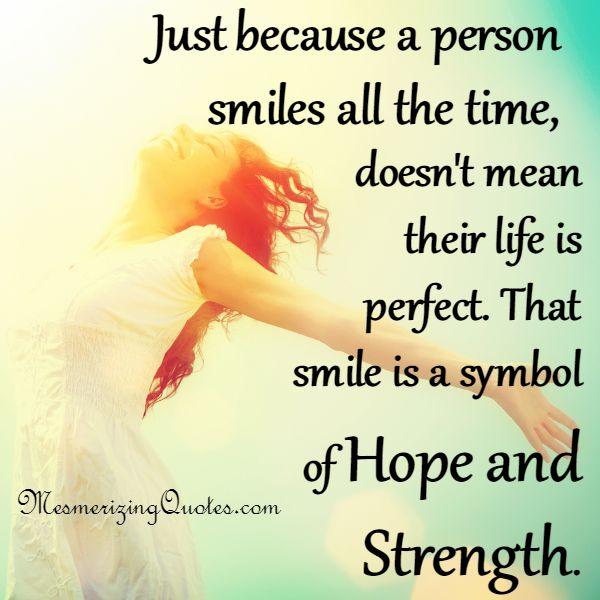 Smiling makes you feel a lot better no matter what is going on with your life.
I must have plenty of hope and strength because I try to smile through the hardest situations life brings. It makes it possible to breath through them. God is so good even in the hard times. There is always something beautiful to see. ~ Cheryl Hull 
There is a story behind every smile. Not all smile is an indication of happiness.
Smile and the world smiles with you. Cry and you cry alone.
Smiling all the time even if I feel like I want to cry. Smiling not only makes me personally feel good, it gives off good energy and in turn attracts positive energy and positive surroundings. There is nothing better than seeing someone smile or better still making someone else smile with you. ~ Kelly Beake 
I put on a smile when I go to work, don't anyone nosing into my life problems. Sometimes I have to go to the restroom and have a cry, then try to get my face right and go back to work. If only they knew my daily struggles. ~ Barbara Hubbard 
Life has a way of testing a person's will, either by having nothing happen at all or by having everything happen at once.
Everyone always tells me that all I ever do is smile and I never talk. If only they knew how depressed I am and how much goes through my mind for me to think of something interesting to talk about. ~ Sean Donis 
Got Something to Say! Comment below :-
comments