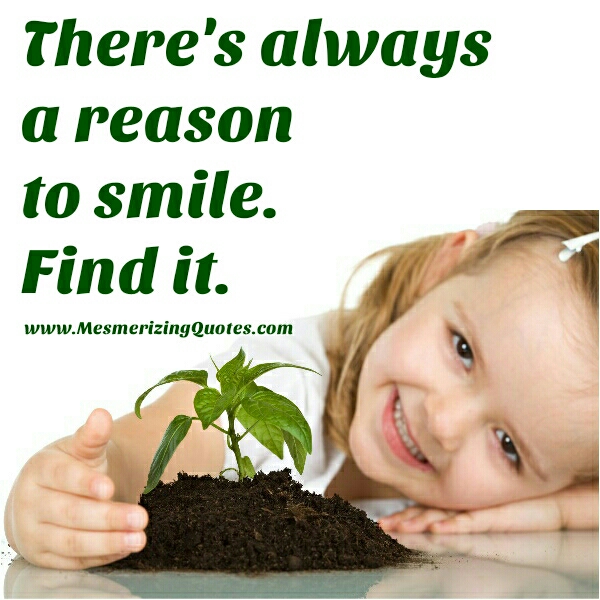 Smiling is the best to ease pain.
Often you just have to look to who is beside you for that reason.
When I know there's someone who care about me. ~ Sham Free 
When you smile, people wonder what you're up to. ~ Ron Martin 
If you see someone without a smile give them one of yours.
If we could be like little children happy just to be alive, our lives would be wonderful. ~ Zenobia Davis 
When we smile we forget our problems. It takes away our stress, makes us happy even when we're tired. ~ Jonaldalyn Lood 
We've all had our ups and downs, and our share of tears. No matter what the reason may be, always find some type of happiness. No matter what hardship we might be going through, at the end of the day stay happy & blessed. ~ Iris Banguguilan 
The promise of good life is what we can smile about. ~ Noreen Flores 
Babies and children smile because they love internally. They are real. Nothing's fake by expressions they reply back to you. So we shall remember we were children and the way we act to others is the response we give of our love and likeness to all. Hastiness is negatives. A smile and kind words is love in our hearts. Do unto others as you would have them do unto you. Love and respect for others feelings could make a better world we live in. ~ Essalene Fischer 
It's difficult to smile when your really having a hell of a time, but when we look around there are people more worst then us and that makes us feel that we are nothing. Just a small smile. ~ Robert Christian 
The guys at work talk about how I am always laughing. They don't realize that I do that instead of frowning or crying. Just trying to make light of it all. ~ Wanda Graham 
We must always smile that's what keeps us going and keeps the people around us going also. ~ Carol Woods 
Got Something to Say! Comment below :-
comments