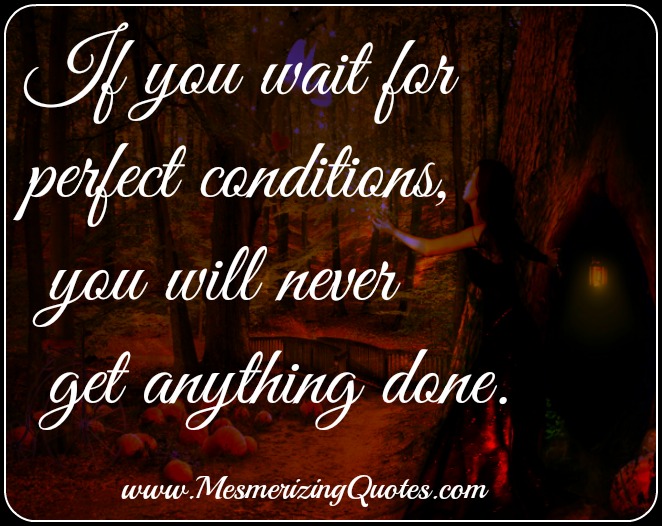 Don't wait for the perfect moment to make a change, pursue a dream or goal. If you want it, go for it. If you keep bargaining with yourself and say, " I'll start next year." or " When the kids move out." It may never happen. If you want something, you should act now. Your future "you" will thank you.
There is never a perfect time to change. Even if it is something like giving up smoking or some other vice. Just Do It. ~ Dolores Dryden
No one gets success if you are always waiting for nothing. You need to step on to the next level of your ladder and pursue to your next dreams. ~ Precious Gina
The lesser the preconceptions about perfection, the simpler the life is. Staying motivated is the name of the game. ~ Winkie Lal
Success comes to those, who DARE and ACT. Rarely it goes to TIMID.
Make sure that you are ready because when you are ready, no one and nothing can stop you no matter what. ~ Francine Bondo
Life has no road map, you have to find the directions yourself. ~ Ries Redemptor
We make excuse to cover up from being scared to take that next step. ~ Charmaine Edwards
The next time could be too late, that you'll regret for rest of your life. ~ Jose Randy
Got Something to Say! Comment below :-
comments