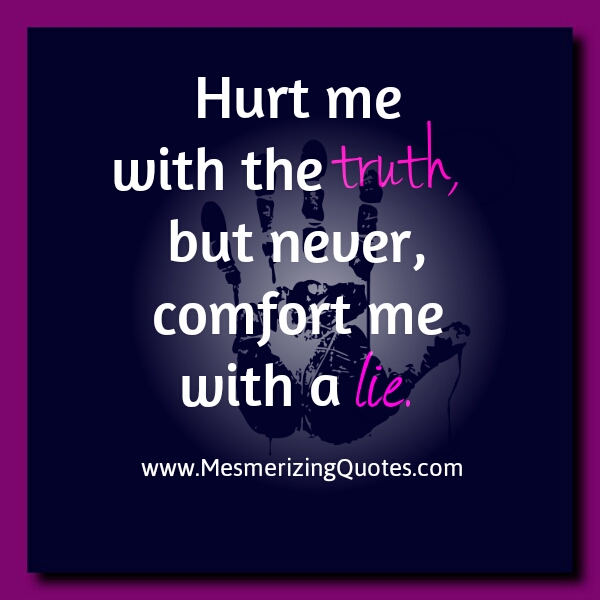 Give me the beautiful lie and you can keep your ugly truth. What you don't know won't hurt you.
No truth = No respect = A waste of time
Truth is always the best way to go in life.
Sometimes the truth hurts and sometimes it feels real good. ~ Marlizper Centinales 
There is no comfort in lies, only the pain of betrayal. ~ Angela Provancher 
Hit me with the truth, but don't hurt me with a lie.
When a lie can deceive and the truth sets you free.
It's always best to tell the truth.
No matter how ugly the truth may be, I can deal with it. ~ Glenda Neese 
Truth doesn't really hurt when we work our emotions around it. ~ Sana Humzy 
Some don't want to hear the truth. Someone close got mad at me for being straight with her and now we're not close. ~ Doreen Powers 
Finally the lies will hurt us more, but don't forget, don't matter the lies of the people who you don't love, then, only the people who you love can hurt you with his lies. ~ Yolanda Pitti 
That's the best thing a person can do because at one time it started as very good friends ,it should end like that. ~ Chester Mitchell 
Truth and lie never remain concealed for ever. Whensoever the reveal up the result u know well. ~ Khaqan Qureshi 
Got Something to Say! Comment below :-
comments