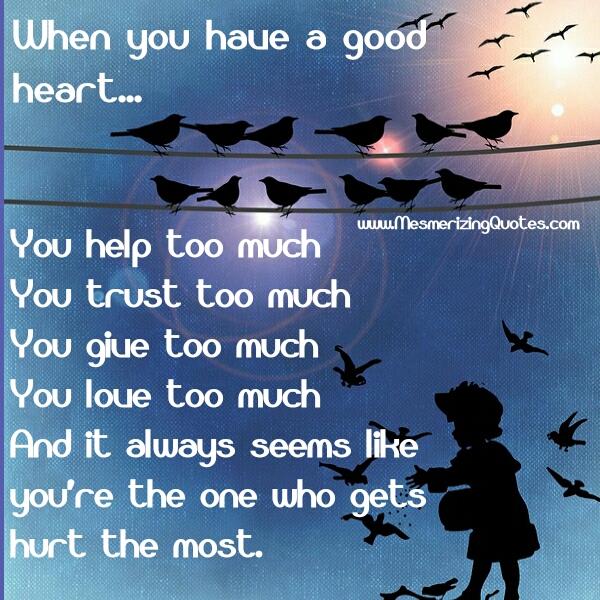 We can never be too kind or loving. The problem would be if we let others hurt us in the process, we need to be wise. ~ Lynn Duron 
The powerful soul have these qualities. You eventually benefit most in the long run.
Most people identify with this situation because we all have been there and then the little ego appeared and started telling that you should protect yourself it is not fair and then we built walls of protection and eventually find ourselves alone protected but in a jail we have build or protection but now we cannot get out and be free. There is a lesson here to be learned. Closing the heart is not a protection act is the abandoning of the true inner self who was our strength and empowerment. It is not anybody else fault it is ours. Now to open up our jail to freedom we need to act as if we are there again, which means to open our heart and act by the heart and start loving ourselves and eventually others. ~ George Amiantitis 
Never expect that people will treat you the same way you treat them.
Boundaries! You must learn when enough is enough. It is so important to have boundaries with yourself and with others, so that you help, trust, give, love, & do, without hurting yourself in the process. ~ Riley Relfe 
Remember your reward will come automatically and perceptibly. It might not always come to the person whom you gave your good heart, often it will comes later. Most of times it comes in a way that you least expect and in far great measure than you anticipated. The heart that gives gathers. ~ Milo Jacinto
Got Something to Say! Comment below :-
comments